In this post, I describe how John Haverson and I made the log hives : using fire, chainsaw and gouges.
Without any special tools we began by using fire to help hollow the log.
The logs typically are between 32- 36″ long with a 12″ hole. This leaves plenty of wall thickness, needed for insulation.
We started by drilling a small hole through the log, working from both sides and hopefully meeting in the middle.
Once the hole is made , the log is tilted and a small fire lit at the base.The speed and direction of burn is enhanced by air fanned  through a metal pipe.
Below shows the log, hollowed just using fire. Work was then needed cleaning the charred sides, in preparation for the bees.
The cleaning of the log was time consuming, so a new method was tried using a chainsaw and gouges. The saw, which had a long blade was plunged into each end, cutting a grid through the timber.
These long squares  could then then be pulled out, leaving a square hole.
These are some logs after chain sawing, the picture shows the 6″ square holes and the outline  in pencil of the 12″ hole.
The tools below were used to cut the rest of the wood out. The  big gouge had a 5′ shaft to help cut through the length of the log, after opening up with the hand gouge and mallet.
The base of the log has a rebate to accept the base board, held in with wooden toggles.
The top is slightly different to accept the three part boards.
Two side boards in place. A third wedge of wood holds them tight.
Inside the log ,two sets of hazel spales are fitted, approximately 9″ from each end.
This helps support the growing comb and separates the cavity into three parts.
If any honey is harvested, side combs are taken, but the central part with the brood cluster belongs to the bee.
Finally after 3 entrance holes are drilled near the base the log is made ready for the bees. This log has been hoisted into an oak tree. The hive is baited with old comb, wax and propolis to smell of bee.
I was pleased that scout bees found this log, liked it, and moved in after only  ten days.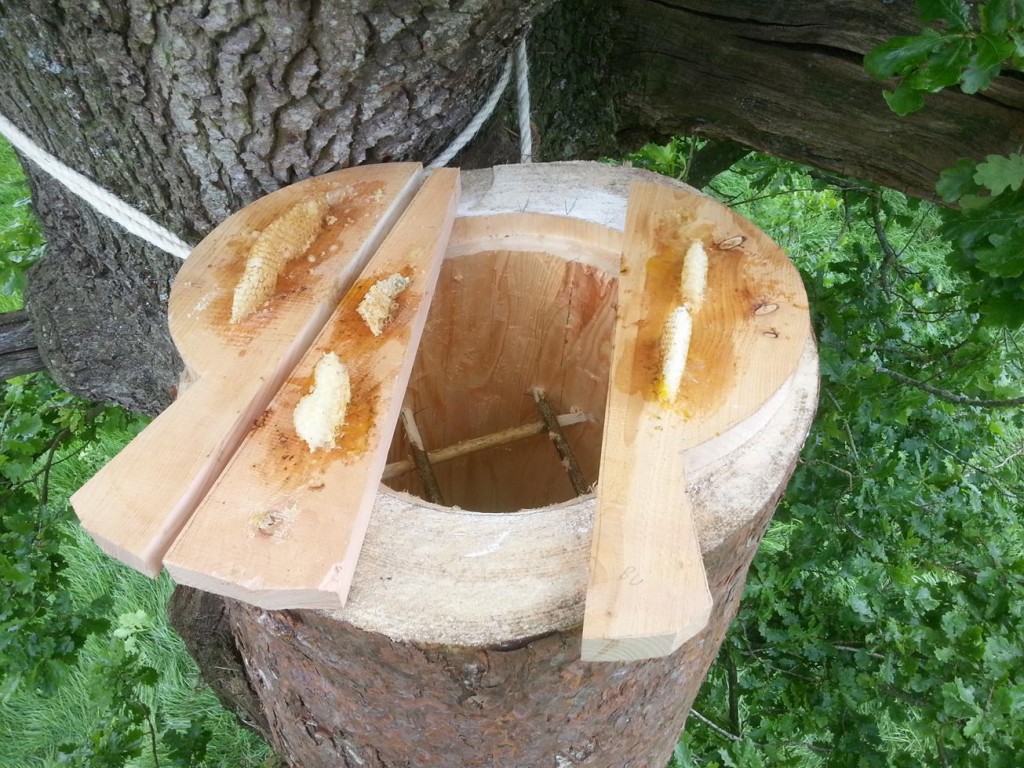 Here is a "land log" just populated with a strong local swarm.
Logs can also be raised on legs to give a better  view of the colony after removing bottom board.